Awesome Brand Names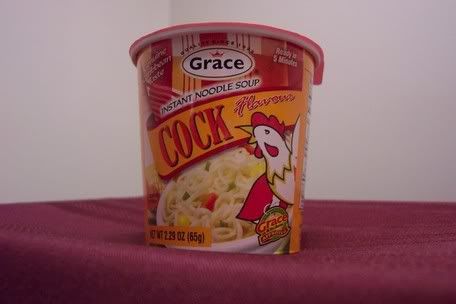 Yes - you're reading the label correctly. This is "Cock Flavour" instant noodle soup.
I saw this for sale at a discount store near my place called, "Big Bud's." Think of Walmart, and now think about a store five notches down the ladder of retail respectability, and then you'll be getting within shouting distance of ol' Bud - when I was shopping there today, it appeared that vagrants and drunken reprobates were stocking the shelves.
I have no idea how any company could imagine this to be a good name for a product they want people to eat. But on the other hand, the moment I saw it, I knew I wanted to buy it. So perhaps it's actually part of some genius marketing strategy. The "strange impulse buy" segment of the market, maybe.
Anyway, the next time you've got a hankering for some nice warm Cock in your mouth, I hope you think of Big Bud.