Greatest All-Time Daydream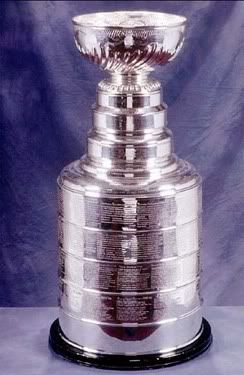 [The scene: an aerial view of the Air Canada Centre in Toronto, the roof illuminated in the dark by a series of spotlights. The Toronto Maple Leafs insignia can be seen on the roof. Outside the arena, tense groups of fans in hockey sweaters wander around, waving to outside cameras.]

Bob Cole: "Time is winding down here at the Air Canada Centre. It is now a tie game, folks. 2-2, on Ward's dramatic second goal about twenty seconds ago, at 18:55 of the third period. What a game! It gets no better than this, everybody; this is what playoff hockey is all about. It's the seventh game of the Stanley Cup final, and it's
allll
going to be decided tonight. Tie score! Between the Toronto Maple Leafs and the Detroit Red Wings."
Harry Neale: "We've seen an incredible performance tonight from Ward. Two goals, a fighting major,
and
a ten minute misconduct! He hasn't left the ice since he was released from the penalty box two minutes ago, when he tied the score to bring the Leafs right back into this game, Bob."
Cole: "And the crowd suspects there is more to come as they set up in the Leafs' end for the faceoff!"
(brief pause; crowd can be heard cheering loudly)

"There are only twenty-seven seconds remaining, and we're going to overtime if neither team can settle it in regulation. The faceoff is to the left of a masterful Eddie Belfour, who has faced 44 shots tonight. The puck is dropped…and the Wings control. Shana…Yzerman, plays the puck to the boards, and is immediately mugged by McCabe. The puck is frozen over there at their feet as the two players kick away at it! And…
twenty!
seconds are now left in the third. McCabe finally gets his stick on it and plays it to an open Kaberle, wheeling over in front of Belfour…
(crowd suddenly erupts in roar)
"And Ward was just nailed at the line by Shanahan!…
Ohhh
, what a hit that was - and no call! His helmet is rolling across the ice…I hope his head isn't in it!
(crowd begins to boo lustily)

"Kaberle still controls the puck, circling back behind Belfour in the Leaf zone, looking for an opening for one last rush - it looks like overtime now for this game!
(crowd begins chanting countdown: 10, 9, 8…)
"Kaberle, feeds a long pass behind Shanahan…and Ward grabs the puck at the redline! And –
it's onside! No icing!
He's skating full-steam through the middle…Lidstrom pokes…
OH GOD, LOOK AT WARD, WHATTA MOVE! HE'S PAST LIDSTROM!(crowd explodes, the roar distorting the broadcast microphones)

"Ward is all alone across the blueline! Only seconds left…shoots…scores!
HE SCORES!!!
(Cole is screaming as the horn sounds to end the period)
"WARD, WITH HIS THIRD GOAL OF THE GAME, WINS THE STANLEY CUP FOR THE LEAFS! I'VE NEVER SEEN SUCH A FINISH IN MY LIFE! And
there
he goes! Mobbed by his teammates…what a sensational end to this series!"
(crowd is screaming non-stop – hats begin to drop to the ice like snowflakes, collecting in drifts to honour the hat-trick. Darcy Tucker is crying with joy as he hugs the jumping crowd of players. Stripped gloves and hockey sticks are flying everywhere as the team celebrates the most dramatic Stanley Cup victory in history. The wobbling camera cuts to coach Pat Quinn, who is shaking hands with the coaching staff)